BOARD OF DIRECTORS
Under the Constitution, the Board is the governing body and the 'Committee' of the Foundation for purposes of the Commonwealth Corporations Act 2001.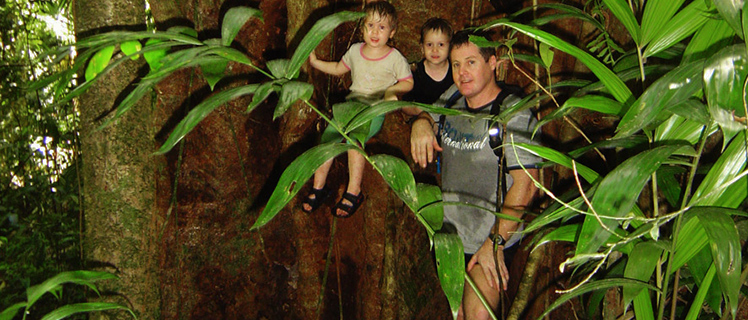 Neil Hewett – Chairman
Neil Hewett is a Daintree Rainforest World Heritage inhabitant and also Chairman and Director of Daintree Rainforest Pty Ltd since 1994.  An Outdoor Educator, since 1987, mainly in remote Indigenous homelands within Queensland's Cape York and the Northern Territory's East Kimberley and Tanami Desert regions.
Angie Hewett – Deputy Chairman
Angie Hewett has been a World Heritage inhabitant since 1998. Formerly a registered nurse working in Townsville General Hospital, she is now an interpretative rainforest guide.
Prue Hewett – Secretary
Prue Hewett has been a World Heritage inhabitant since 1994 and Secretary – Director of Daintree Rainforest Pty Ltd ever since.  A trained educator with tertiary qualifications in dietetics, biochemistry and microbiology, she has previously taught in secondary schools in Victoria for 30-years; 10-years as Principal of Boronia Heights Secondary College.
Dr. Paul Chantrill – Director
As Manager (Communities & Partnerships) within the Wet Tropics Management Authority in Cairns, Paul is well-suited to the role of Director.  Having worked on many community-based projects that seek to strengthen local participation and involvement in environmental and education projects, Paul taught social work and international development at the University of New England and the University of Queensland for more than ten years and has also worked with many international aid and development agencies that promote sustainable community and economic development.
Ron Shoppee – Director
Ron Shoppee has accrued a wealth of experiences and skills throughout his life.  He has worked in executive and management positions with a number of multi-national corporations.  His experiences have taken him into outback and overseas areas, working with Indigenous people in several countries.  He is a student and practitioner of creative arts, having made several documentaries for Australian Adventure and Tourism, and was in charge of marketing 'The Stockman's Hall of Fame'.
Emrys Nekvapil – Director
Emrys is a barrister specialising in equity and public law, with broad trial and appellate practice and a particular focus on public law, commercial law and torts.  Emrys is the General Editor of Victorian Administrative Law (looseleaf), the Editor of the Victorian Administrative Reports and an author of Pizer's Annotated VCAT Act (5th edn, 2015).  He is very interested in conservation of the natural environment and supports the protection of natural and cultural values within Daintree Rainforest.