BOARD OF DIRECTORS
Under the Constitution, the Board is the governing body and the 'Committee' of the Foundation for purposes of the Commonwealth Corporations Act 2001.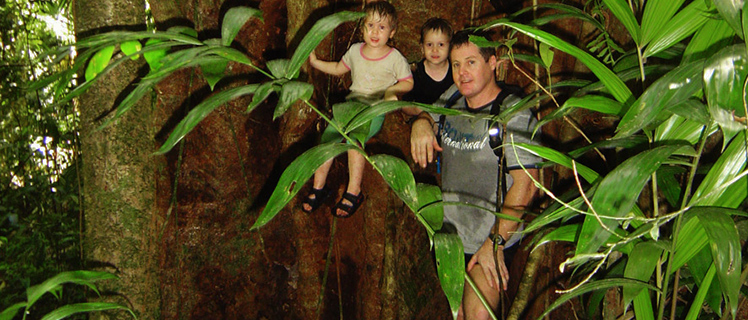 Neil Hewett – Chairperson
Neil Hewett is a Daintree Rainforest World Heritage inhabitant and also Chairperson and Director of Daintree Rainforest Pty Ltd since 1994.  An Outdoor Educator since 1987, in remote Indigenous homelands within Queensland's Cape York and the Northern Territory's East Kimberley and Tanami Desert regions.
Angie Hewett – Deputy Chairperson
Angie Hewett has been a World Heritage inhabitant since 1998 and Director of Daintree Rainforest P/L (t/a Daintree Rainforest), a World Heritage Land-management company ever since.  Formerly a registered theatre-nurse, Angie now expertly presents the world's longest surviving rainforest.
Prue Hewett – Secretary
Prue Hewett has been a World Heritage inhabitant since 1994 and Secretary – Director of Daintree Rainforest Pty Ltd ever since.  A trained educator and dietician, Prue has previously taught in secondary schools in Victoria for 30-years; 10-years as Principal of Boronia Heights Secondary College.
Dr. Paul Chantrill – Director
Assistant Director for the National Indigenous Australians' Agency, Paul oversees and supports a number of Indigenous Protected Areas and places of great cultural and natural significance across Cape York Peninsula.  Paul previously worked for the New Zealand government, supporting rural communities and advised the Department of Conservation.
Emrys Nekvapil – Director
Emrys is a barrister specialising in equity and public law, with broad trial and appellate practice and a particular focus on public law, commercial law and torts.  Emrys is the General Editor of Victorian Administrative Law & Administrative Reports and an author of Pizer's Annotated VCAT Act (5th edn, 2015).  He is conservation passionate and supports the protection of natural and cultural values of the ancient Daintree Rainforest.
Scott Gentle – Director
Scott is a career arborist with over 35-years experience. Growing up in the bush, Scott acquired managerial skills, taking on roles as a community facilitator, lobbyist and project manager.  Scott believes in the necessity of human connection with land-management and perhaps nowhere more so than the Daintree rainforest, one of those treasured places that simply has to be protected!
Sandra Myerscough – Director
Sandra is a lover of the Daintree Rainforest and, having visited many times, is passionate about the protection of this World Heritage-listed area. Sandra began her professional life as a teacher, but evolved into change-management across government and private enterprise, spending 6-years working with NFP Victorian Disability organisations. Currently Sandra works for the Victorian Department of Energy, Environment and Climate Action.